Ok, everybody maybe already knows about
ladyada's new device called Microtouch.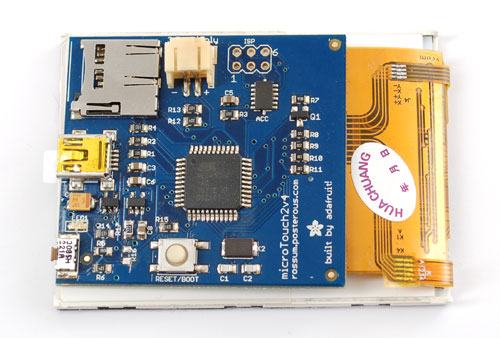 It's simple device with accelerometer, SD card slot, touchscreen, USB host and li-po charger circuit. It's nice device and I'm looking forward for projects with this device. I like it...
But I want talk about different kit with LCD that I already have and for me is definitely more suitable and maybe could be for you too.
The kit comes with a camera, which wasn't the reason why I bought it.. so I took it off :) MCU is ATmega32. It have 320×240 LCD with touch screen. On this particular type the touchscreen pins aren't connected to ADC pins but two resistors and 4 wires solved this issue. USB connector is only for powering. It has no accelerometer or SD card slot.
The bord comes with sample app that initializes the LCD, displays image and text. And after the while it starts displaying the image from camera to the LCD. Okay.. the refresh is so hight that AVR is just doing synchronization pulses and the actual image is directed straight from the camera over 8bit bus to the LCD, but if you slow down the frame-rate that it's possible to catch some image data and do some procesing or save it somewhere :)
What it's perfect that all pins are accessible on two big headers and you can add more features to this device much more easily. If you're more into the hardware, you'll like all kinds of sensors that you can connect to this board. Okay.. the camera wasn't so terrible idea and I put it back and played with it for a while. Maybe I'll try some really simple image processing on the board.
Okay, what you can do when you'll be bored because you tried all interesting things and projects with this board? You can just use it as regular LCD panel for other projects with much more better chip! All pins from LCD are on pin header so you can use for example 16 bit bus and connect it to your new ARM processor that you're playing with!
What about camera? Since it isn't soldered, you can use it in another projects. And that's so perfect when you like to play with hardware... you can actually simple indestructible reuse parts on this board..
Okay.. someone don't like my way of thinking... I'm not comparing these two boards :) Just sharing my opinion with board, that I already have.
This board is still selling on eBay store
. You can also look on other types of this device with ST MCUs or SD card slot... nice boards!